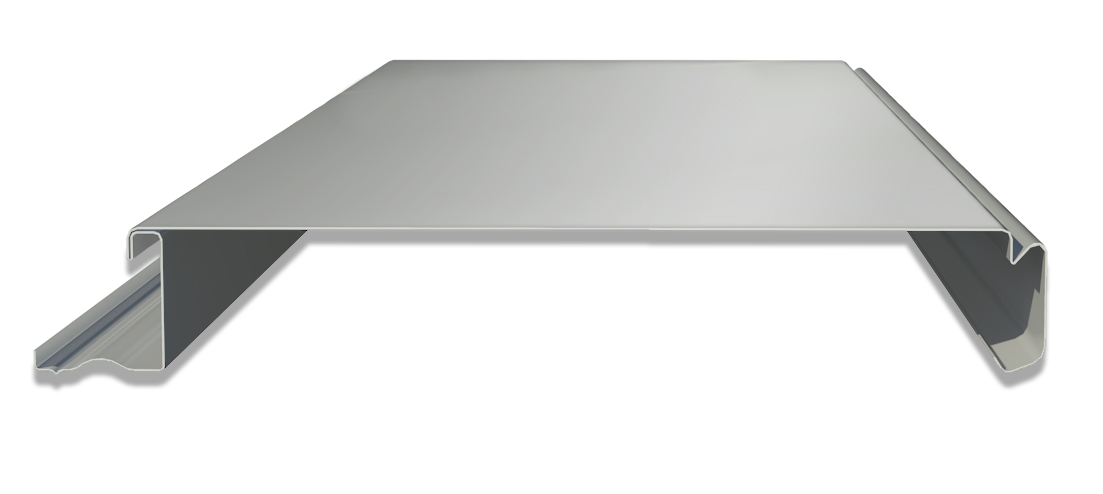 Designer Series 12 Panels
Coverage Width – 12" (Flat Panel)
Panel Attachment – Concealed Fastening System
Gauge – 24 (standard); 22 (optional)
FInishes – Smooth (standard); Embossed (optional)
Coatings – Galvalume Plus, Signature 200, Signature 300, Signature 300 Metallic
Applies Finishes
Get A Quote
Product Description
Designer Series 12 Panels are perfect for fascia panel walls. They can be used in new construction or retrofitting existing buildings. It's ideal for architectural applications and can be installed both vertically and horizontally. The panel features concealed fastened systems enhancing the appearance. The cavity of these panels make a great feature as they have a 1 3/4″-inch deep leg, making insulation types like ridge board insulation a easy fit. The installation of these pannels are also easy, one leg of the panel is attached to the structure using a concealed clip and the other leg snaps securely into the adjoining panel to lock them into position. You can then replicate this all across the building or the area you want by snapping the Designer Series 12 Panels in one right after the next.
Contact us at for more information.
We offer a wide variety of panel profiles and colors for our Designer Series 12 Panels.
Coal Black
Burnished Slate
Charcoal Gray
Rustic Red
Koko Brown
Hawaiian Blue
Light Stone
Polar White
Solar White
Fern Green
Medium Bronze
Snow White
Slate Gray
Almond
Classic Green
Brownstone
Brite Red
Harbor Blue
Bone White
Colonial Red
Pacific Blue
Natural Patina
Midnight Bronze
Everglade
Tundra
Spruce
Hunter Green
Copper Metallic
Silver Metallic